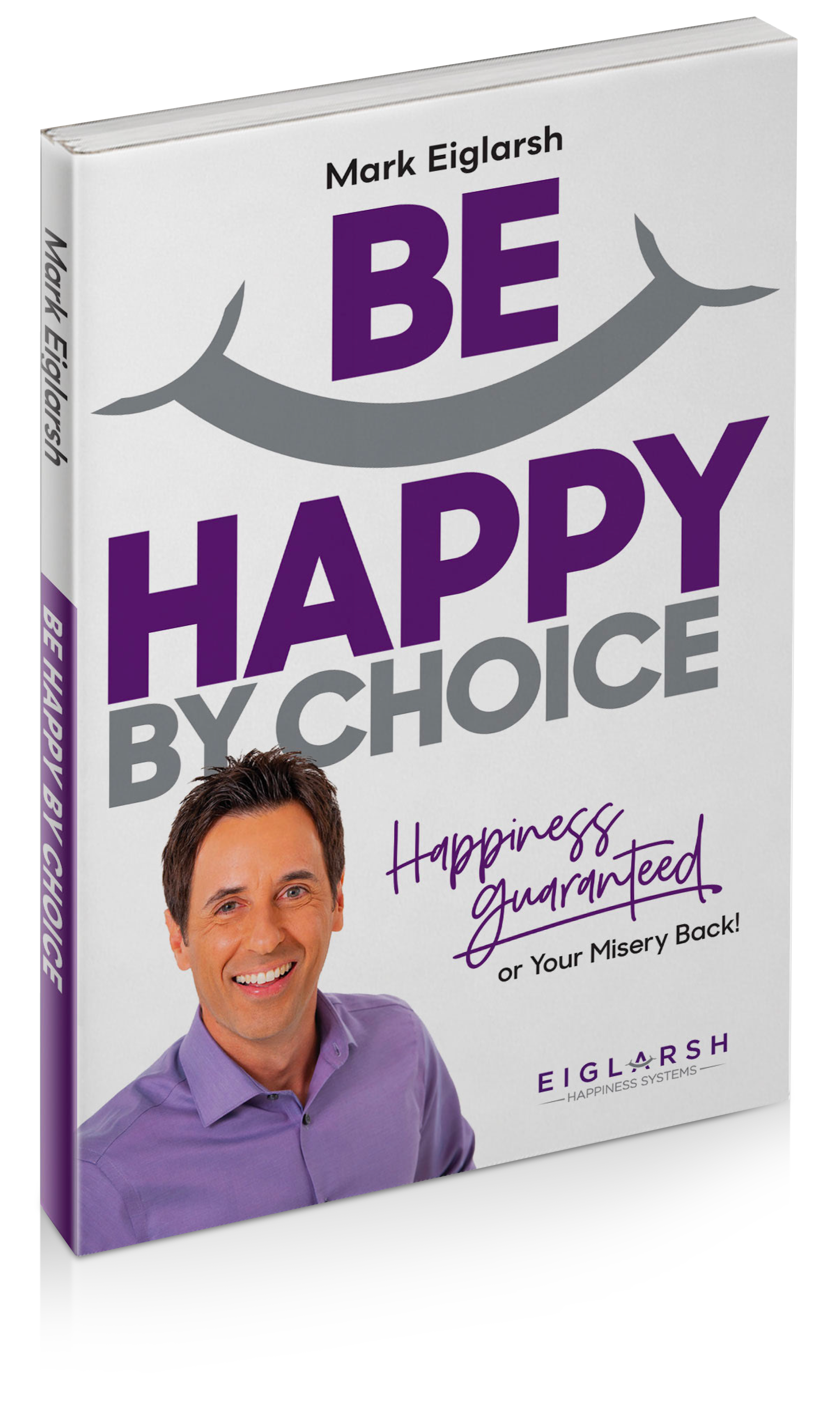 Click here to BUY NOW!
Eiglarsh
Happiness Systems
Mark Eiglarsh is a passionate and thoroughly entertaining speaker who helps people reclaim their natural-born happiness. He delivers ongoing, inspired support to guide and empower people so that they can learn how easy it is to choose happiness. Those who have benefitted from "Eiglarsh Happiness Systems" have experienced increased levels of happiness, resulting in achieving goals faster and experiencing higher satisfaction in life.
what we do
services
MARK EIGLARSH
Happiness Specialist
View Some Recent
Media Appearances
Mark, who is South Florida's WIOD radio's "Legal Lion," also appears regularly on numerous local and national television networks including: ABC, Fox News, CNN, HLN and has made appearances on 60 Minutes, The Today Show, 20/20, The Dr. Phil Show, The View (multiple appearances including guest co-host), The O'Reilly Factor, Outnumbered, and Good Morning America.
See Mark on TV

testimonials
SUCCESS STORIES
M. Kevin Lawhon, CLU
Managing Partner, Northwestern Mutual
"Mark will help you unlock the door to the happiness we all possess, and will help you and your team choose a life of happiness!"
Marcie Sherman
Marcie Sherman, Southern Glazer's Wine & Spirits Project Manager, Supply Chain Management
Mark is a fantastic presenter; engaging and passionate about his subject matter. He offered great examples of ways to apply his concepts in both work and personal life. I was instantly interested, entertained and learned useful tools on how to turn my day around. He's very talented, funny and insightful. He really reeled me in!
Craig Goldenfarb Esq.
Personal Injury attorney; Personal injury lawyer business coach; founder of Seven Figure Attorney Seminar Series"
"Mark is a tremendous speaker. He masterfully puts life in perspective for those of us who are unfortunately compelled by our careers to be "human doings" instead of "human beings". I could listen to Mark all day. 
Bobby Burg
Senior Vice-President, Southern Glazer's Wine and Spirits, LLC – Operations & Chief Supply Chain Officer
Mark recently spoke to our Supply Chain Management team in both Dallas, TX and Miramar, FL. Mark's energy, passion, professionalism and connection with the audience was beyond impressive. His message was sincere, relatable and his humor kept the audience's attention for the entire presentation. He was the perfect choice for a motivational speaker for our group. From the moment he came into the room to the moment he left, his focus was on our attendees as he customized his speech to them and related to their particular job functions and the challenges that they faced at work as well as in their personal life. Our attendees left his presentation energized and excited about his message and his performance. We have already received a tremendous amount of positive feedback on Mark's presentation. He really hit it out of the park!
Robin Bresky
Founder of the Law Offices of Robin Bresky and the Attorney Wellness Exchange (AWE!)
Mark Eiglarsh is one of the most dynamic and inspiring speakers I have ever heard. His perspective is life changing!
Samir Ghia, Esq.
Lawyer | Coach | Entrepreneur
Mark is truly an inspirational and entertaining speaker, teacher, attorney, and human being! His incredible ability to break down and communicate complex ideas into actionable steps is the sign of a true modern master. Not only does Mark advocate, he lives the principles that he teaches. Mark's passion and enthusiasm for his mission - helping all of us access our innate ability to be happy - is anchored by his deep care and commitment to humanity and leaving people better than he finds them. If you have the opportunity to connect with Mark's unique wisdom, you should absolutely do so . . . you'll be happy that you did!
Scott Sarbey
Founder of Sarbey, Kelly and Kaufman, LLC (Certified Public Accountants)
"Mark Eiglarsh's presentation was far and away the highlight of our company's recent corporate retreat. Mark's passion and enthusiasm for the subject of "happiness" are obvious throughout his humorous and thought-provoking talk. Our entire team found the talk entertaining and impactful and the lessons and take-aways continue to resonate even now- months after the presentation. I am so grateful to have had this opportunity to provide this experience to my team—and to myself!"
Stephanie R. Vaynriber, Esq.
Shahady & Wurtenberger, P.A.
"Meeting Mark Eiglarsh was a transformative moment in my life, both personally and professionally. Thanks to the Mark, I realize that I have an extraordinary power. The power of CHOICE: I can CHOOSE to have an attitude of gratitude and be HAPPY. Mark reminded me that I already embody happiness from within. Who knew one had a choice? I have chosen love, gratitude and happiness in my professional and personal life. In turn, happiness has translated into being a better partner to my husband, a better mother to my young daughter, and a better advocate for my clients. Happiness is the true key to success. Thank you, Mark!"

UPCOMING EVENTS
Eiglarsh Happiness Systems
Most of Mark's upcoming events are private corporate events, however, if interested in attending one of his public keynote addresses, click the "Learn More" tab and contact us. It would be our pleasure to recommend one of Mark's upcoming event that would be the right fit for you.
To book Mark for a speaking engagement and/or an event, or if you have any inquiries, feel free to contact us.
contact us